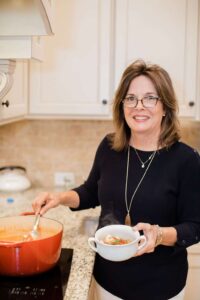 Not many things better on a cold day than a hot cup of coffee.  Unless you are hungry, then a nice hot cup of stew or soup is a go-to for me.  I love seafood so of course, I make a seafood chowder that is a crowd-pleaser. There is a lot of variation to this recipe depending on your preferences or dietary restrictions. Enjoy!
Southern Seafood Chowder Recipe
Ingredients:
2 pounds of fish fillets, fresh or frozen
1 pound peeled, deveined, fresh local shrimp
2 cans (6-1/2 ounces each) minced clams with juices
¼ cup olive oil
1 cup chopped onion
1 cup chopped celery
2 minced garlic cloves
2 cans (28 ounces each) stewed petite tomatoes with liquid
½ cup white wine
¼ cup fresh chopped parsley
2 ½ teaspoons salt
1 teaspoon sugar
¼ teaspoon thyme
1 bay leaf
1/8 teaspoon hot pepper sauce
Directions: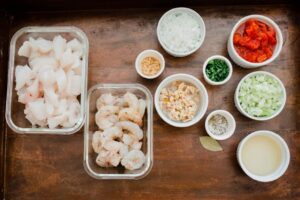 Step 1) Thaw fish and shrimp, if frozen. Skin fish and cut into ½ inch cubes. Cut shrimp in half or ½ inch pieces.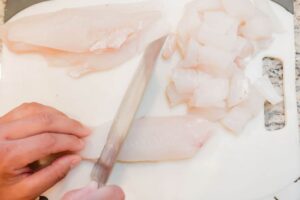 Step 2) In a large saucepan, cook onion, celery, and garlic in the olive oil until tender but not brown. Add the tomatoes, wine, parsley, salt, sugar, thyme, bay leaf and hot sauce. Simmer 15 minutes.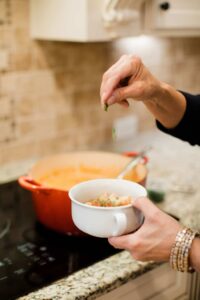 Step 3) Add the fish, shrimp, and clams and cook 8 to 10 minutes or until fish flakes easily when tested with a fork. Makes 8 to 10 servings.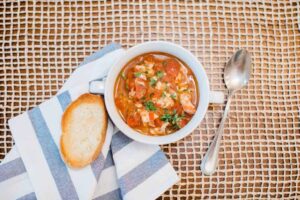 Serving:
This can be served over sliced, toasted French Bread or Rice. Chowders and soups, if allowed to sit overnight in the refrigerator, are always better.