Visit Fisherman's Dock Seafood Market in Jacksonville
Located in Mandarin, on San Jose Blvd just north of Loretto Rd.
Laurie Wohl
Local Guide on Google Maps
Absolutely the best place to buy seafood! Excellent experience every time. Employees are super friendly and helpful and the seafood is divine! Their additional experiences... cooking classes, recipes, etc.. are exceptional!
Marvin Prier
Local Guide on Google Maps
This is my absolute favorite place to go for fresh seafood! The staff is always friendly, and it's a smile on the their faces, even when the line is out of the door! I am thankful for the service that I receive here! Thanks!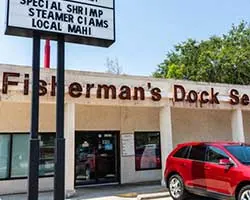 Phone:
(904) 268-8918
Address:
11610 San Jose Blvd
Jacksonville, FL 32223
Hours of Operation:
Mon - Sat
9:00am - 6:00pm
Get 10% Off When You Sign Up for Text Updates!
Click the button below from your phone to sign up for the Mandarin Texting Club