Visit Fisherman's Dock Seafood Market in St. Augustine, FL
Located on A1A between Pope Rd. and 16th St.
Louise Riling
Local Guide on Google Maps
I was thrilled to find this store within walking distance of Pope Rd. The selection of seafood was easily twice what I usually find. It's been a few years since I've been to a fresh fish store but even in today's economy I found the prices very reasonable. I will definitely be going back!
Angus Bennion
Local Guide on Google Maps
Great place to get fresh seafood! I love that they specifically label what's been frozen and thawed, and what's never been frozen. We had some delicious local shrimp and a fresh snapper. The folks there were very friendly and helpful as well!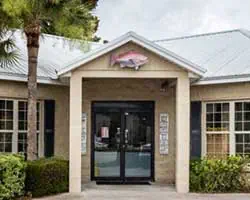 Phone:
(904) 471-0410
Address:
2125 A1A S
St. Augustine, FL 32080
Hours of Operation:
Mon - Thurs
10:00am - 6:00pm
Fri - Sat
10:00am - 6:30pm
Get 10% Off When You Sign Up for Text Updates!
Click the button below from your phone to sign up for the St. Augustine Texting Club